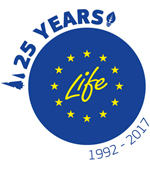 Biodolomer for Life: a visit to the test plant at GAIA BioMaterials AB
http://life-25.eu/biodolomer-for-life-a-visit-to-the-test-plant-at-gaia-biomaterials/
Date: 02/06/2017 at GAIA Biomaterials AB
Inform about Life programme and its 25 th Anniversary.
Inform visitors about  Biodolomer® for Life project and how the project members interests line up within the project from the circular economy perspective.
Spread information about how biodegradable biomaterails: are made, differ from traditional plastics, differ from non-degradable biomaterials, can be used for a wide range of various applications, can replace traditional plastics.
Target Groups: local council officials, potential local business partners, public,  primarily school children, press and media.
---
 "This publication is produced with the contribution of the LIFE programme of the European Union. It reflects only the author's view and the Agency/Commission is not responsible for any use that may be made of the information it contains."
Read more about GAIA BioMaterials
Read more about Biodolomer for Life