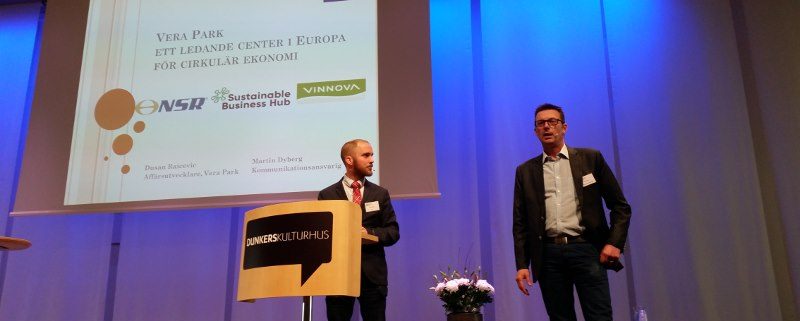 Recycling day in Helsingborg
The Annual Conference Recycling day the 17th of May in Helsingborg.
NSR AB opens the facility for environmental solutions that can contribute to a sustainable future and Vera Park is a cluster of environmental technology based in northwestern Skåne.
About 155 persons from the waste and recycling business area in Sweden participated at the conference and mini-fair called Recyclingdagen. Martin Dyberg, Strategic Communicator at Vera Park and Dusan Raicevic, Business Developer at Vera Park,  held a presentation about Vera Park – concept, companies and Projects within it, such as Biodolomer® for Life.
At the stand they showed up Gaia´s products and its partnership at Life Programme together with NSR AB, and Båstad Municipality. As well as other Vera Park companies products and services.
---
 "This publication is produced with the contribution of the LIFE programme of the European Union. It reflects only the author's view and the Agency/Commission is not responsible for any use that may be made of the information it contains."
Read more about GAIA BioMaterials
Read more about Biodolomer for Life